CATERING BIG & SMALL

Personalized and free menu creation and consultation | Planning an Event? Our team can help you with all of your catering and beverage service needs. We provide both upscale and casual menus for all types of events. Please contact us for customized sample menus or to set up a consultation.
Sample Menus
This is just a sampling of some menu ideas! We are not limited to these ideas and would be happy to accommodate any of your wishes. We can work within a budget per person and tailor the menu from there.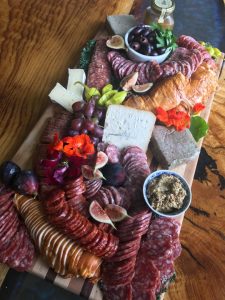 SAMPLE MAIN COURSES
– Beef Tenderloin with Béarnaise or Creamy Horseradish
– Grilled Lamb Shashlik Skewers
– Grilled Leg of Lamb with Herb Garlic Marinade
– Boneless Leg of Lamb Stuffed with Chard and Feta
– Duck Breast with Wild Mushrooms or Cranberries
– Grilled Seafood Skewers-Shrimp, Scallops, Swordfish and Tuna
– Lacquered Salmon Filets garnished with Scallions – our specialty***
– Stuffed Filet of Sole
– Lobster Sauté
– Scallops Matiche – Creamy with Mushrooms and Carrots Julienne
– Grilled Pork Tenderloins with an Apricot Au Jus
– Grilled Marinated Boneless Chicken Breast served with a Tropical Salsa
– Grilled Swordfish or Tuna Steaks
– Chicken Piccata
– Chicken Marsala
– Chicken in a Creamy Belgian Endive Sauce
– Greek Chicken stuffed with Feta and Spinach
– Vegetable or Meat Lasagna and etc.
ACCOMPANIMENTS
– Fruit Salad or Fruit Skewers
– Fresh Mozzarella, Tomato and Basil drizzled with Olive Oil
– Fresh Garden Salad
– Mesclun Salad with Edible Flowers
– Greek Salad
– Caesar Salad
– Orange and Red Onion Salad
– Pear, Endive, Roquefort and Walnut Salad
– Grilled Leeks with Balsamic Marinade
– Grilled Vegetable Platter – Zucchini, Yellow Squash, Eggplant, Red and Yellow Peppers, Sweet Potato and Onions
– Roasted Beets with Horseradish Cream
– Candied Yams
– Scalloped Potatoes with Cheddar and Chives
– Oven Roasted Red Bliss Potatoes with Fresh Herbs
– Wild and White Rice Medley, Curry Rice Salad
– Potato Salad- Dilled, French Mustard with Bacon, Balsamic Oven Roasted with Carrots, or Garlicky
– Pasta Salad- Prima Vera, Pesto, Sundried Tomato and Parsley and etc.
– Black Bean Salad
– Thai Noodle Salad with Tofu
– Quinoa Salad
– Thai Rice Salad
– Carrot Julienne with Raisins Salad
DESSERTS
We also provide Assorted Finger Dessert Trays (Choc.- Raspberry Brownies, Lemon Squares, Pecan Squares and etc). Or some other types of desserts we could discuss like Trifles, Pies, Mousses or Cakes. We can accompany this with Chocolate-dipped Strawberries or Fresh Berries with Whipped Cream or Crème Fraiche. Coffee, Tea, Cream and Sugar Silver Service.
The Westporter provides full catering services for:
Weddings, Rehearsal Dinners, After-Wedding Brunch and Luncheons, Picnics, Graduations, Christenings, Birthday Parties, Anniversaries, Baby and Bridal Showers, Cocktail Parties, Dinner Parties, Tea Parties, Corporate Events, Fund Raising Events, Business Luncheons and Events, Memorial Receptions-Coalitions, Political Events, Celebrations, Beach and Boat Picnics, Complete and Insured Bar Service (Specialty drinks, Creative Signature event drinks), Supper Club, Raw Bar with Local, Native Wild Littlenecks, and Oysters, Shrimp served on Ice Beds garnished with Fresh Seaweed shucked by Local Shellfishermen