The Westporter offers full service boutique catering, using farm-fresh ingredients and native comestibles. By supporting local farms, our clients enjoy garden fresh produce, native fish and meats, artisan cheeses, and other local delights. With beautiful and abundant ingredients as their palettes, our chefs create exceptional menus based on your tastes and desires. Call or email us and start planning a wedding menu that your guests will not soon forget. We also have large wine selection kept chilling in our new freezers from this
walk in cold room installers
.
WEDDING MENU SAMPLES – This is just a sampling of some of the favorites.
BEVERAGES
We can provide a number of different Ice Teas in silver punch bowls or antique pitchers (Rose Water, Gingered, Lemon, Raspberry, Minted and Green Ice Tea), Handmade Lemonade, Hot or Cold Apple Cider or a wedding punch. Click here to learn more about our beverage services.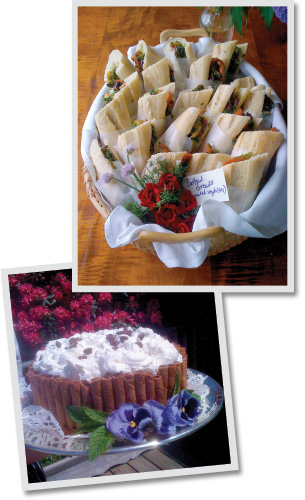 MAIN COURSE IDEAS
-Grilled Swordfish or Tuna Steaks
-Lacquered Salmon Filets (Our Specialty with Asian Marinade garnished with Scallions)
-Grilled Marinated Boneless of Chicken served with Tropical Salsa
-Greek Chicken rolled with Spinach and Feta
-Chicken Marsala
-Chicken Piccata
-Stuffed Filet of Sole
-Grilled Lamb with a Mint Pesto
-Fresh Cod or Chicken with Sauce Verde
-Chicken with Apricots and Fennel
-Vegetable or Meat Lasagna
-Herbed Crusted Pork Tenderloin with Seasonal Vegetables
OTHER IDEAS FOR MAIN COURSES
– Assorted Beef Tenderloin with Béarnaise or Creamy Horseradish
– Grilled Lamb Shashlik Skewers
– Grilled Leg of Lamb with Herb Garlic Marinade
– Boneless Leg of Lamb Stuffed with Chard and Feta
– Duck Breast with Wild Mushrooms or Cranberries
– Grilled Seafood Skewers-Shrimp, Scallops, Swordfish and Tuna
– Stuffed Filet of Sole
– Lobster Sauté
– Scallops Matiche – Creamy with Mushrooms and Carrots Julienne
– Grilled Pork Tenderloins with an apricot Au Jus
– Grilled Marinated Boneless Chicken Breast served with a Tropical Salsa
– Grilled Swordfish or Tuna Steaks
– Chicken Piccata
– Chicken Marbella
– Chicken Marsala
– Chicken in a Creamy Belgian Endive Sauce
– Greek Chicken stuffed with Feta and Spinach
– Vegetable or Meat Lasagna and etc.